Create a support ticket in the Cloud Control Panel
Last updated on: 2017-04-17
Authored by: Rackspace Support
Creating a support ticket in your Cloud Control Panel is the best way to communicate with Rackspace Support Technicians. Following are the two ways through which you can create a ticket:
After you are logged in, click Support in the top navigation bar and select Create or View a Ticket in the pop-up window.

Click on your Account in the top navigation bar, and in the drop-down menu, select Support Tickets.
When you click on the Support Tickets or Create or View a Ticket link, you will see a list displaying your currently open tickets, and a tab with the option to view your closed tickets. Each ticket entry displays the name, the date it was last updated, the ticket status, and ticket ID number. To create a new ticket, click Create Ticket.
When you create a new ticket, you can select a broad product category, such as Cloud Servers or Cloud Databases, and then a more specific category that narrows down the type of problem you are experiencing, such as General Support, or API. In the Details section, enter a subject and message describing your issue. You can also attach a file up to 20 MB to the ticket. After you have entered information into all the fields, click Submit Ticket.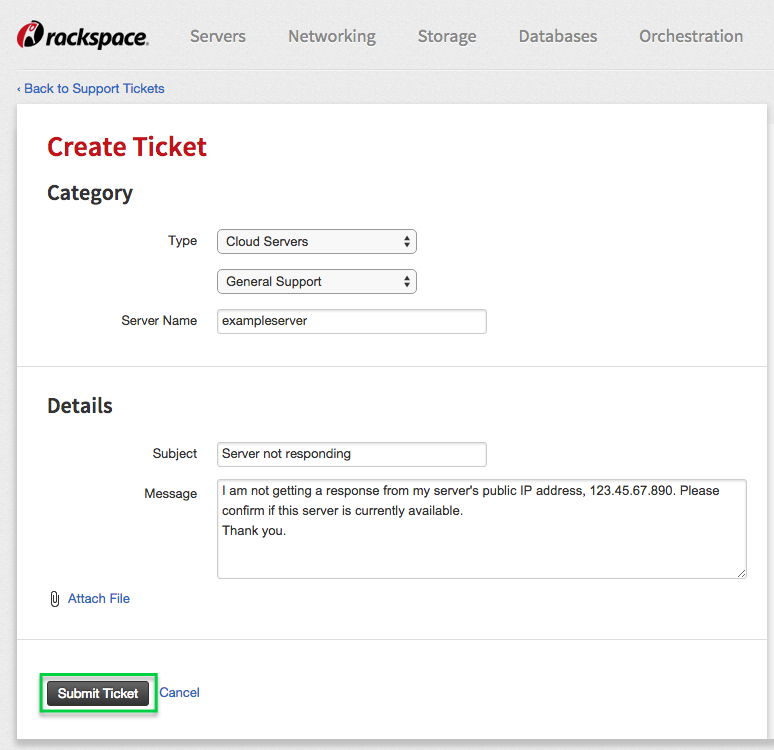 The best way to communicate with our Support Technicians and provide specific details about a problem that you are experiencing is by opening a ticket. The advantage of using a ticket is that it allows you to copy & paste or attach cumbersome information such as traceroutes and error log entries directly into the ticket.
©2017 Rackspace US, Inc.
Except where otherwise noted, content on this site is licensed under a Creative Commons Attribution-NonCommercial-NoDerivs 3.0 Unported License