Dedicated vs. Cloud - Important Questions to Ask Yourself
Time to re-evaluate compute performance due to growth or changing business needs? Today, there are more benefits to utilizing a cloud environment than just saving money. More importantly, you're not on your own. Rackspace® offers Managed Operations on top of Cloud Servers™ so you can receive the support you've historically been accustomed to with dedicated servers.
While some scenarios require dedicated hardware, many legacy-dedicated environments are hosting web applications where a cloud environment is a better fit. And better yet, with RackConnect™, you can deploy cloud and dedicated resources in one hybrid environment.
Consider asking yourself the following questions when considering a move to the Cloud.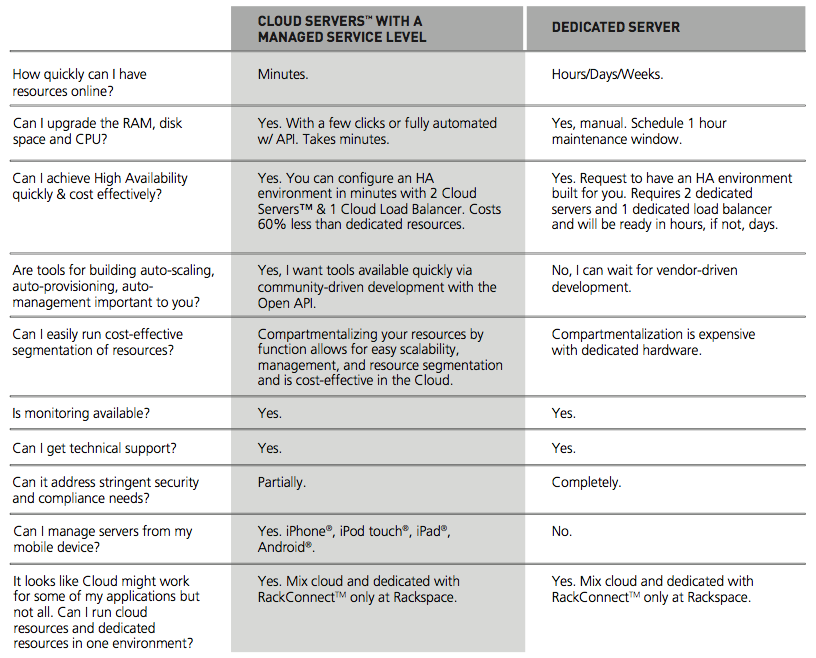 ©2016 Rackspace US, Inc.
Except where otherwise noted, content on this site is licensed under a Creative Commons Attribution-NonCommercial-NoDerivs 3.0 Unported License