451 Research: Assessing Rackspace Hybrid Cloud Capabilities In The Market - July 2013
Hybrid cloud – flexible, on-demand IT infrastructure that is centrally managed and located across physical, virtual, customer and provider environments is going to be a dominant trend (See Figure 1). Rackspace currently enjoys some key advantages across a broad swath of the competitive landscape when current trends and changing attitudes towards infrastructure service delivery are taken into account.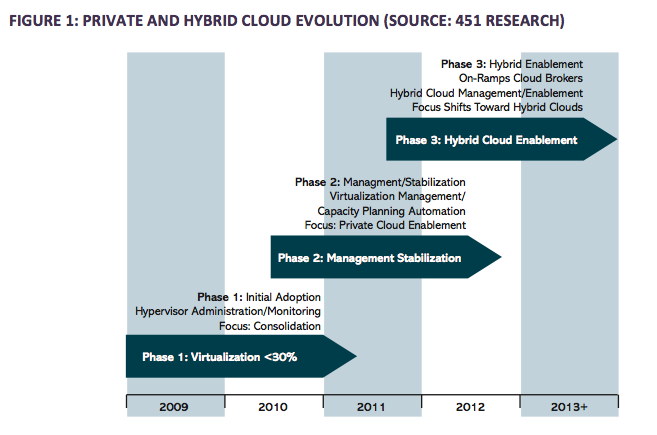 There are a number of competitors zeroing in on the hybrid cloud enablement market including managed infrastructure providers, IT services providers (outsourcers, system integrators, etc.) and technology (software/hardware) vendors. 451 Research was commissioned by Rackspace to assess a segment of the competitive landscape and evaluate their position in the market. In total, ten vendors were assessed – including Rackspace – based on the following attributes:
Web-based, self-service management portal
Orchestration
Flexibility – customizable environment
Integration and federation
Management and automation
Security capabilities
Breadth of portfolio
Customer service and support
Speed of deployment and time to market
Cost
The hybrid cloud team at Rackspace provided 451 Research with definitions for each attribute, which formed the basis of each assessment. Based on proprietary data on customer priorities, 451 Research applied a weighting system to highlight those attributes that are most highly valued by end-users. The weighting schema reflects a reduction in the importance of technical features and the growing importance of service delivery and agility related attributes. End-users tend to give more importance to security capabilities, customer service and support, and cost. Attributes directly contributing to better service delivery experience such as flexibility, integration and time to market are also highly valued. The end results of the weighted assessment of the selected vendors hybrid cloud service capabilities are shown in the table below.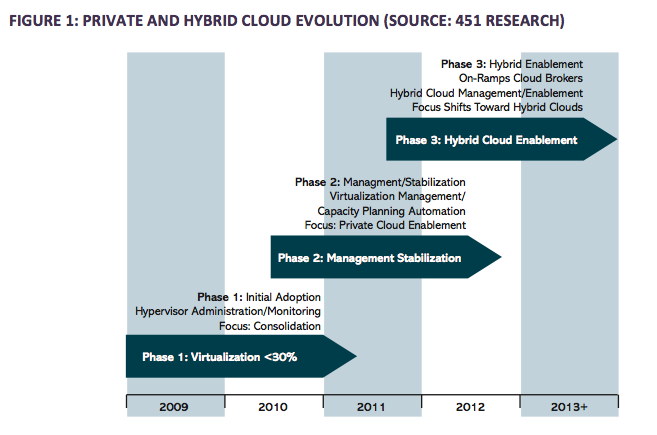 Rackspace has a leading hybrid cloud offering – however, the merits are not necessarily technical features. Just as the rise of cloud computing generally was not about technical superiority, but about driving end-user demand through agility, access, and features, Rackspace's real strengths in enabling hybrid cloud come from a combination of technical acumen and the ability to deliver usable infrastructure quickly.
On a technical level, AWS and SoftLayer lack the ability to deliver on-premise cloud. Within an IaaS-only environment, AWS provides a broader feature set, however, Amazon lacks the depth of experience seen among its competitors in serving the enterprise segment and has no hybrid cloud capabilities. SoftLayer has a full range of infrastructure solutions in the IaaS model, but it has relatively little experience serving large enterprises and comparatively low staffing levels that limit customer support. GoGrid has a solid technology for hybrid set-ups and is small enough to be agile, but it does not operate on the same scale as other profiled competitors, and lacks specialization and broad services portfolio.
Microsoft and IBM's hybrid software products are relatively new and lack functional maturity. IBM is a "one-stop shop" with a broad product/service portfolio and deep roots in large enterprise, however, price points typically run on the high end. Microsoft is starting to be seen as an enterprise-grade provider of private, hosted and public clouds, although it's not a technology-neutral cloud player as it synergizes its cloud products around Windows.
Verizon/Terremark and CenturyLink/Savvis are well established in the enterprise segment, however, both typically engage in highly individualized engagements for each customer and thus lack the comparative agility of Rackspace's portal and automation capabilities, nor do they enjoy economies of scale in the same fashion as Rackspace. Terremark has an edge on automated security and compliance process automation.
CSC and HP can craft a "bells-and-whistles" hybrid infrastructure, tightly integrated into a customer's operations, but neither is perceived to be a market leader in public cloud delivery. CSC in particular is very much associated with the traditional IT outsourcing delivery model and is undergoing a radical business restructuring, which will make market development around public cloud especially challenging.  HP also has a large traditional IT outsourcing business to protect alongside its hardware business, which somewhat weakens its appeal to the IaaS and hybrid cloud market.
Consequently, from the weighted assessment of the selected competitors, Rackspace can be said to have the most sophisticated hybrid model for a pure-play infrastructure provider and the most credible hybrid cloud offering, especially with the recent updates to Rackspace Private Cloud. In addition, it's worth noting that the growing popularity of OpenStack among service providers and enterprise users helps Rackspace build mindshare and market share. However, it is important to remember that customers can get the same essential infrastructure operation with each competitor, and customers make choices based on different criteria related to specific needs.
Other factors to consider are Rackspace's focus and specialization in customer service and support, which makes it a supplier that is easy and helpful to do business with. Indeed, Rackspace has an excellent reputation for superior customer support and it also has on-demand infrastructure in dedicated and IaaS to make standing up resources fast. Thus Rackspace poses a threat to the traditional engagement model for IT services firms which can take several months to even begin to deploy IT – even if its best-of-breed results with enterprise-class gear.
Enterprises want hybrid cloud for agility and they want providers to have fast provisioning and first-class support. Put simply, Rackspace can get equivalent results – hybrid cloud environments – usually in faster time than IT services firms or technology vendors, while providing support and service delivery superior to that provided by pure-play infrastructure providers.
©2016 Rackspace US, Inc.
Except where otherwise noted, content on this site is licensed under a Creative Commons Attribution-NonCommercial-NoDerivs 3.0 Unported License