Creating a PHP Site for a Cloud Sites main account
Last updated on: 2015-12-29
Authored by: Rackspace Support
Note: This article is written for our Cloud Sites Control Panel. You can get to it from the Cloud Control Panel by clicking Rackspace Cloud in the upper-left corner and selecting Cloud Sites. You can also navigate directly to https://manage.rackspacecloud.com/.
Prerequisites
User has administration access to the website
Procedure
Login to the Cloud Sites Control Panel
If you are new to The Rackspace Cloud, please refer to Adding a new website and add the website.
Navigate to Hosting > Cloud Sites. This will list all the domains/websites owned by the account, now click on the php website hyperlink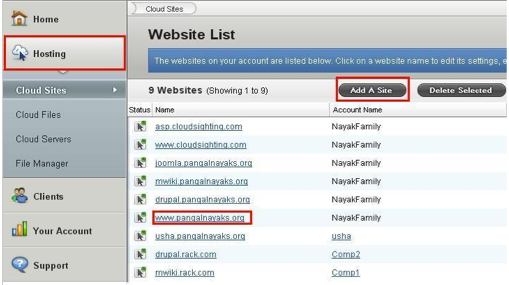 ©2016 Rackspace US, Inc.
Except where otherwise noted, content on this site is licensed under a Creative Commons Attribution-NonCommercial-NoDerivs 3.0 Unported License